For techies who have lived in or moved from San Francisco, this recent meme struck a nerve.
.@fitzgepn Tyger Tyger, burning bright,
In the forests of the night;
What immortal hand or eye,
is willing to relocate to San Francisco?

— Code By Java (@JacobyDave) March 24, 2016
William Blake's most famous poem "The Tyger"
Why is it in 2016, we must be willing to relocate to San Francisco?
This meme results from the most repeated request by recruiters and tech startups, even startups that haven't even located to the city itself. The comical reaction is, you can have a fantastic job, but only if you relocate. Of course it doesn't actually mean relocate to San Francisco proper, rather to companies located in the SF Bay Area. Most of the tech companies are actually centered in the South Bay which for the typical American is like commuting to the far ends of suburbia.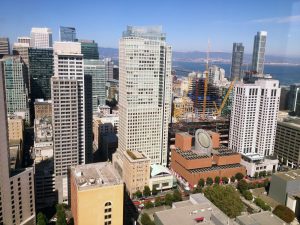 Why is it in 2016, when the internet promised telecommuting and decentralized work that the tech industry is fervently concentrating America's intellectual capital into a suburban peninsula on the Pacific prone to devastating earthquakes.
This live-work geographic disparity is not new to planning, but it represents much of the frustration Bay Area planners face. We have pioneered instant global communication for every human on Earth and yet the talent who create, maintain, and innovative this technology are required to be in a precise location, in a building, usually seated, from morning until early evening. We call this area Sunnyvale, Santa Clara, Palo Alto.
Most planners expect people to decide where they live based on their work. This is a basic tenet of sector and concentric zone theories.
The talent don't have much choice of where to live, they are confined to options a narrow shoreline on the east side of a peninsula land-locked by mountains on the west and a shallow bay on the east. They can venture south into endless cul-de-sacs shaped from former marshlands, called San Jose. East across the bay to the limited rugged terrain along Diablo Range. But most choose to live north along a high-capacity transportation line called Caltrain that connects to a regional transportation system called BART. Private transit (company shuttles) provide the rest.
They move north because the peninsula is capped by a sprawlingly dense urban habitat called San Francisco. Defying the steep geography left by former sea levels and tectonic activity, we have carved rectilinear blocks into the hillsides and reclaimed the beaches.
We know the peninsula head is most desirable to live in because it offers breathtaking views of the Marin headlands and the Pacific Ocean. But most importantly it has concentrated architecture, housing and commerce into a human-scaled environment that produces variety and vibrancy — favored by Jane Jacobs.
We know the southern shoreline of the peninsula is desirable for tech companies because it historically birthed computing innovations in sprawling low-cost campuses. But most importantly it has concentrated intellectual institutions and venture capital into a self-propagating complex of physical and social networks, which David M. Levinson coined as "plexus."
Planners contend with this desire and interchange between San Francisco and South Bay for the foreseeable future. Strangely, towns within an 1 hour of both fray at the edges, unable to capture this desire for many reasons such as demographics and transportation. Bay Area regional planning has come to an impasse over these issues.
And so they continue to ask if you are still willing to relocate to San Francisco. As a techie I have a laugh and then look on in contemplation.
Author's Note: I would still move back to San Francisco.