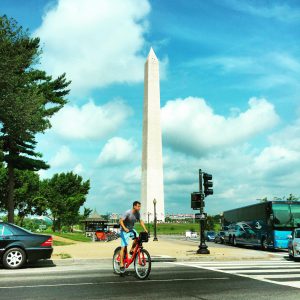 In 2008, Minnesota Public Radio interviewed me about bicycling when the idea of being a full-time bicyclist was just starting to gain traction. At the time, bike lanes were only in the planning stage, and bicyclists comprised a hardcore group of locals who lurked in the angsty MPLSBikeLove forum.
I was always curious about how people interpreted the article, whether it had any resonance or impact. Now, Minneapolis is America's most bike-friendly city and the only world-listed bike city. MPR still has the post up, so I imagine it has some SEO relevance at least. I hope telling my story about this article highlights relevant issues on millennials and urban life.
When T-Paw was Around
It's been 8 years and my life during that article seems like a distant memory but it's a time I will never forget. We were riding the economic bubble to it's greatest heights. Cranes filled the sky and real estate values soared. Minneapolis took this opportunity to pour the investment back into an ambitious bicycling master plan.
Light Rail was in doubt because of a South St. Paul hockey dad turned 5-second Republican Presidential hopeful, former Governor Tim Pawlenty ("T-Paw"). He vetoed the Green Line funding the same month of the article, though it was restored later. Cities could only do their part for sustainable transportation with such a polarized state government, and that meant bicycling.
Fat Kid
I'm very plump in the article, probably 230 lbs. I was working very hard because jobs were scarce and I was given a fantastic opportunity by a real estate firm to do planning analysis on new residential development. My Bachelors degree in Urban Studies clearly did not go far. Bicycling was the only thing that kept my health and sanity somewhat in check.
It was a two mile commute from Prospect Park to Downtown Northeast everyday that took about 20 minutes because roads on University were created for cars, not people. Kids today would be blown away by what kind of hellish carscape Stadium Village was prior to TCF Bank Stadium.
Bike Dumb
In the article I'm very oblivious to my bicycle which was a cheap $300 Raleigh Hybrid from local chain-store Erik's Bike Shop in Dinkytown. It was criminally slow with cheap parts. I'm confident no bike shop today would ever sell such a poor bicycle, even for light recreational purposes. I wish the seller had steered me to something better, but more on that later.
Fast forward about a year from this article, I put the bike through the wringer including an entire winter where I, in a puffy green parka, traversed snowy icy roads. I learned to be even more "hardened" and also to carry myself in a way I would want others to see. I watched videos of Copenhagen's magical flow where people stopped at red lights on a dime. I wanted the same and wanted to communicate that through my actions.
Then the hammer hit, the economy disastrously collapsed. I lost my job.
Bike Smart
I decided planning graduate school was my calling instead of the deeply embedded wars my generation was fighting. My bike somehow made it to fall of 2009 as I put off any maintenance on it. Then I walked into The Hub Bike Shop in East Bank and everything changed.
The Hub is an employee owned collective which focused on making bicycling a real form of transportation for people. They hosted classes on bike etiquette and even focused on developing women riders. They sold Giant Bicycles from Taiwan, who was one of the few manufacturers really closing in on this emerging need for modern American bicycling. I believe Giant saw how their $2,000 carbon road bikes were taken seriously by lycranauts, and realized the same could be of normal citizens.
I purchased a Giant Rapid hybrid. It was a sleek, sexy, with higher end Shimano shifters. Yes it cost $700 after tax, but it was light years ahead of the Raleigh. It was a real bike for a real commuter. With a slim rack, semi-racing stance, and rapid-fire shifting assembly, I could keep pace with other cyclists, make it on-time to my destinations, and haul some groceries.
In short, the bike made it easier to bike, but I biked more because it was so easy.
I learned how to fix my own bike too. I took apart the rear cogs often and washed off the miles of accumulated gunk. I strung wires when they broke and replaced tubes when they popped. In the long haul I probably spent up-front $1200 including lights and locks, and $500 a year on maintenance (1 tune up, adjustments, and parts).
Biking Bandwagon
Nice Ride bike-sharing was introduced in 2010 and as a snooty self-described Urban Planner Candidate, I snubbed it initially. How could people on these low-geared upright bikes manage to get anywhere on time and haul dinner. It was at best a tourism gag and for suburbanites to get a safe feel of the gritty city. The Bixi utility bikes evoked nightmares of my Raleigh, trying to bust it through fast-moving traffic.
But I was wrong. I saw how the bikes allowed groups of people to traverse nearby destinations that were unthinkable by walking or even car. For people living in inner neighborhoods, they could get Downtown reasonably. Combined with the city's emerging bike lane system, Nice Rides actually seemed easier than my hybrid road bike. I was constantly paranoid my bike would be stolen (as is a common problem) and was ever more worried when I had to leave a bike overnight in an unknown area. Nice Ride you use once and done, even if it's a few minutes slower.
Walking is Cool
After graduate school, I took a 3 year chance at San Francisco and lost quite a bit of weight (phew). There, I learned more about what transportation really is about. In Minneapolis, I spurned the chaos of buses and vehicles crowding my way, why shouldn't everyone ride a (fancy) bike. But I realized at the end of the day, humans just need to get around.
San Francisco's bike rush hour was a choatic nightmare. Nobody obeyed red lights, even at the busiest intersections. People did not orderly line up on the bike lane, they constantly and dangerously bumped shoulders. "Downtown" Market Street is only a 2 mile trip at most, but it felt like a 20 mile marathon. High-speed passing on Valencia was compounded by ride-sharing blocking the lane. I actually ended up preferring to take transit and walk. Actually, there was a lot of walking. The synergy of the two was relaxing and energizing. I didn't want to bother with a bicycle in San Francisco, the city was just too beautiful to pass by.
I bought an older Giant OCR, the predecessor to the Rapid for just $300. But I rarely used it, in fact I mostly lent it out.
The District of Bicycling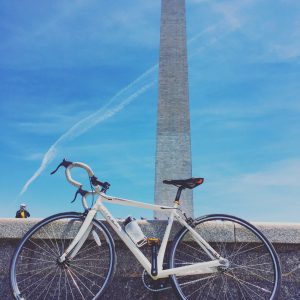 Today in DC, I actually don't have a personal bicycle, yet. (Update: I bought one off Craigslist from a cool dude!) My company TransitScreen provides memberships to Capital Bikeshare to promote sustainable choices by our employees. I've taken so many convenient trips between stations that it hasn't been an urgent matter to obtain my own bike.
Since this article, my feelings on being a full-time bicyclist or bike warrior have waned to an idea that we all have to get around in our own ways, and should have options toward that. But we also have to be mindful of the impact our mobility affects fellow citizens and the planet.
I usually walk 20 minutes to work on spacious Massachusetts Avenue. I regularly carry my groceries about 4 blocks from a Safeway. I often take Metro to go to Union Station. I like bikeshare for cross-town movement. I prefer local carshare startup Split to take me north of Columbia Heights. Zipcar vans help me move furniture. Buses are great after a long day from Farragut to Dupont.
It seems I've traded my four wheels for one, my role as a member of society.