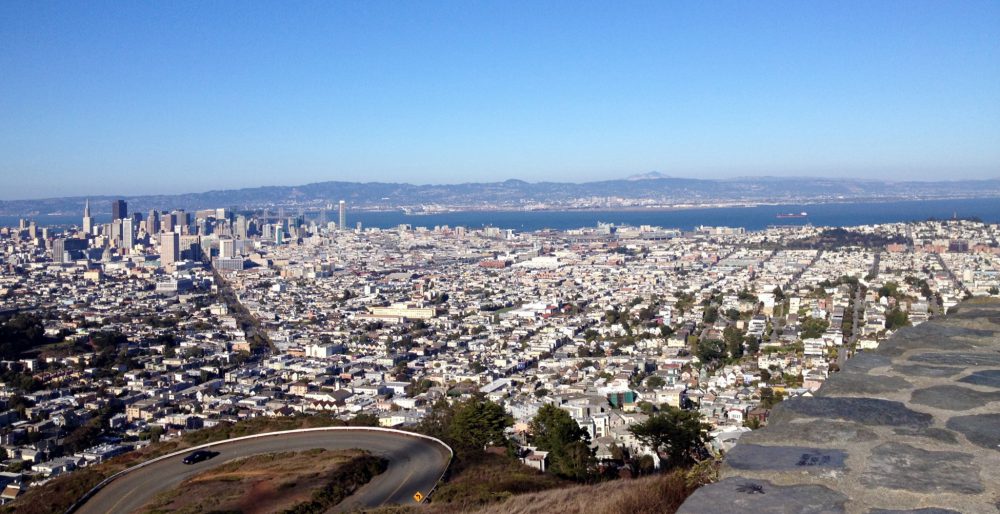 In honor of Jane Jacob's 100th birthday, I thought I'd share what I learned from San Francisco's neighborhoods and what made them great places to be. Lost in the tech gentrification controversy is the fact that the City is indeed an extremely desirable place to live, so much that people sacrifice hard to have a slice of it.
In three years of regularly walking down the Noe Valley slopes or jumping on rickety Muni buses, I saw a textured and varied environment that provided great "delight," as the Romans say, both architecturally and culturally. Here's how I personally experienced the "bowl" of neighborhoods in and near the Mission, that helped me understand why millennials are so enticed.
24th Street
Descending from the 1960s terraces of Diamond Heights is Noe Valley. To most Americans, it feels dense with the city's highest concentration of row houses. Most of these Victorians and Edwardians are restored and immaculately maintained. It's a sea of white peaks and turrets that looks like a storybook illustration.
24th Street is the Main Street here. This is strollerville now, dominated by families who made it and were able to secure their slice of the former working-class area. It's very clean and static, with bagel shops meeting high-end clothing stores. The demographic is thoroughly white, and the conversations and eyes on the street reflect a highly upper middle class attitude.
Noe Valley is the epitome of tight urban living but its geographic isolation as a valley high above the sea level insulates it from all the grittiness of typical dense neighborhoods. There's no major roads that cut through and the steep hills even dissuade nearby locals. And on top of that are expansive views of the Bay.
The street activity drops off at Dolores where the wide palmed boulevard, fortress like gilded architecture, and insane elevation changes prohibit much casual street life. It's utterly beautiful but this southern part of Dolores is a visual and physical "wall" due to speeding cars, parking soft-stories, and awkwardly graded intersection crossings.
Valencia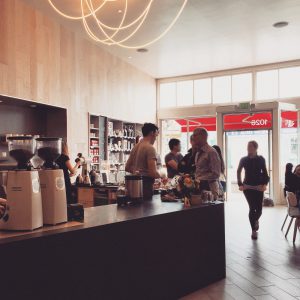 Moving east, the grade falls precipitously and the first prominent avenue is Valencia. A fairly low-density commercial corridor, it doesn't feature any of the Gothic architecture as the real Valencia, but it offers an honest collection of retail and food to call it a complete livable street. Generally, one can buy groceries, peruse clothing, sip coffee, fix a bicycle, get a book, eat a gyro wrap, and grab a drink without needing a tech salary or a car! You can even buy cheap furniture at the community thrift store.
The sidewalks are streetscaped in some areas and the street has bike lanes, so Valencia basically represents that transitionary and youthful urban village. Diverse socioeconomic backgrounds can be on this street and not feel out of place. There's even a children's park. Valencia is also a true pedestrian shopping street and many weekends I would walk the entire length of it while the California sun beamed down.
Southern Mission District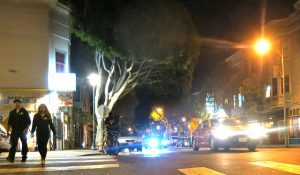 There's many flavors of the Mission but the one that most people associate it with is the Latino part of it. It's a Little Mexico of taquerias, grocers, and salons, the staples of any immigrant community. 24th Street here is alive, people bustle about to attend to their errands and greet familiar faces. There are few strollers here, these are locals who own and operate — Hispanic immigrants and their descendants. Tourists are seldom seen.
The doubly subdivided blocks and repetitive streets lends this area an active street life all days of the week. The cafes are always busy, my favorite being Taqueria Guadalajara for its salsa bar. There are also Haight-like hippie bookstores and hipster coffeeshops which seem to throw me back into a Midwestern college town.
Perhaps because of the affordability in this area, there is also a regular presence of transients, especially near the BART Station plazas and SF General Hospital. In contrast, this is very rare in Noe.
Mid-Mission District
North of 24th Street in the streets named for states and local pioneers, I call the mid Mission. It's a tired looking area, there's less retail, the row houses are of plain working-class design, and remnants of the former industrial railroad peak through. All the streets have controlled stop signs so it's very quiet save for freeway-like Van Ness and Potrero.
Conversely, Mission Street maintains a broadway feel, with its former streetcar era department store buildings and mostly mainstream chain retail. Between the knick-knack stores are trendy upstart cafes and restaurants avoiding the high rents of the popular retail streets. The constant drum of four lanes of traffic give the street a smoggy Downtown feel.
Northern Mission/16th Street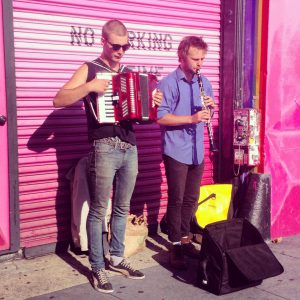 As one moves north toward 16th Street, things change quickly. Around the Muni yards, industrial lots have been converted to upscale condos and lofts. Small boutique food and retail peaks its head around here. This area shares a lot of vibe with Potrero Hill but without the elegance. It reminds me of typical '90s loft conversion neighborhoods where the street level was deactivated, avoided and barricaded.
On the other hand, Valencia to Mission Streets get grittier and frenetic both visually on the sidewalk and in the storefronts. More security bars on windows and more (delicious) hole-in-the-wall cafes and front patio bars. People on the sidewalk tend to congregate and stop more here. It's an Uptown of a past era.
16th Street itself is peculiar. Most of it is a fast-moving crosstown road formerly serving industrial sites. But there is a marching line of gastropubs and clubs from Mission west to Market. The area feels young, hip, gritty in a very familiar way to American inner cities. The glorious namesake Mission San Francisco de Asís seems out of place.
Further north to Duboce and the horrid freeway, I feel is still coming into its own identity. This area has mostly 3-story apartment buildings which likely once served as working-class residences for the former industrial SOMA. Retail is a smattering between new and old school.
Castro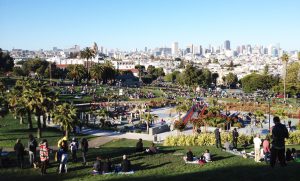 The northern part of Mission, from Dolores west to Castro Street is very solidly identified with the Castro more than the Mission. Dolores Park may be a crown jewel of the Mission District, but it's also a magnet for the LGBT community.
The sidewalk cleans up quickly as it moves west. Every inch of real estate is utilized or perfected. The exuberance of activity on 16th Street leads back to a controlled, stately street life similar to Noe. There's obviously more tourism here but also the retail and cafes are far more polished and marketed.
Known as Eureka Valley, this geographic area of the Castro has a very steep incline from Dolores Heights (the mountain that divides Noe Valley to the south). So activity is ultra-concentrated onto 18th and toward Market Street. Castro as a neighborhood is clearly evaporated of its former working-class underpinnings. However unlike family-oriented Noe, grocery stores are replaced by specialty stores, and the clothing shops seem rather fad than practical.
What Castro may lack as a complete street, it makes up for as a vibrant stage for visitors to entertain themselves. The number of gay bars and clubs in addition to the City's recent streetscaping with LED lights and commemorative placards, creates a modern Uptown district.
So Is it Happy Hour?
As I reflect on my time in the Mission, I can see where the area affords not just the urban "diversity" millennials seek, but complexity and choice in housing, food and lifestyle. You can get a taste of city life without needing to be Downtown.
The friction and flow of the well-heeled west side and poorer ethnic east side allow millennials to exploit opportunities between both communities. For example grabbing a nice apartment in Noe while eating cheaply (and well) in the Mission. To me, Valencia is the heart of where this drama is playing out with its mix of very expensive exclusive restaurants competing for real estate with modest community business and family-oriented functions.
And of course connectivity. You don't need a car, one is connected by foot and transit to so many options within a 1 mile radius anywhere you live. If you work or play Downtown, you're connected instantaneously by BART. If you work a little closer in SOMA or Mid-Market, you can just bike. In this manner, I see the tech controversy as a symptom, not a cause of the Mission's popularity.
Overall the Mission will continue to remain an ever popular place to live as more storefronts are brought back to life and Muni gets its act together.