In the past year a renewed push to build a second Transbay Tube across the San Francisco Bay floor has heated up. BART has been plagued with it's own maintenance problems and to some reports, is steadily worsening with a half-funded backlog through the next decade. But plenty of transit systems have backlogs, so why is there emphasis on new infrastructure in a time of waning tax money. I see several factors driving this:
Community "consensus" is cited as reason at all levels which seems to be defined as simply people are using BART and agree that more capacity is needed.
Bay Area population is exploding at something like a million people each decade. For perspective, that's like 90,000 people a month.
Not only has BART been barely able to keep up with crush loads, but Bay Area highways are essentially at maximum capacity. Especially for a highly dense and urbanized area, there is no more room to expand them.
The Bay is also geographically not really capable of expansion or bypassing. There are clearly defined corridors of travel. Only increasing capacity within existing paths makes sense.
SPUR has been spearheading the effort to get it on the agenda. Their white paper has a lovely breakdown of all the transportation solutions and contingencies the second tube will serve.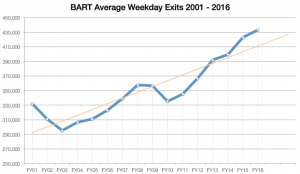 Make BART Great Again (for People)
I think it's more important to ultimately see what is the rider's perspective. Bay Area residents (yes both property owners and renters) already taxed out of their minds and might want something but vote a different way when it comes to it.
So it's telling to see that 70% of voters approved Measure RR which was the most unsexy $3.5 billion transportation funding proposition I've ever seen. Via the Chron:
Measure RR, unlike most transportation tax measures, lacked marquee projects like a new extension, a new station or a second Transbay Tube. Instead, it featured a collection of decidedly unsexy projects, including replacing 90 miles of original rail, waterproofing San Francisco subway stations, rebuilding the electrical equipment that delivers power to the tracks and trains, and replacing the original train control system.
Most riders and even BART maintenance crew alike are not even sure how rail technology affects them. The only promise is that replacement of these fundamental systems will ensure BART is reliable. On-time reliability is perhaps always the most important concern. As reliability dipped toward the low 90% for BART, riders definitely took notice.
Stop Bleeding at the Edges
As we move towards a Two Tube Future, BART needs to absolutely stop looking at expansion, and focus on the system's current strengths. Maybe some residents want BART to go to San Jose, but as a frequent rider, I almost never saw people riding beyond 6 or so stations. In fact Amtrak's Capitol Corridor already goes all the way to Diridon Station, so why were such precious dollars wasted when the BART maintenance backlog was about to mount into public outcry.
Spoiler alert, the South Bay extension project is already delayed. Warm Springs was suppose to open in 2014. There was talk of opening it this year ("achingly close"). Now nobody knows when!
The Second Transbay Tube is projected to be $12 billion in today's dollars. The extension to San Jose will likely reach if not exceed that number. The public would be wise to keep any future major expansion projects in line of sight of the power makers overlooking the Bay than hidden at the system edges.