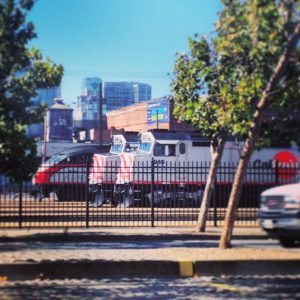 Shaun Abrahamson of Urban.us detailed a list of "Pop-up Mass Transit" startups operating now.  From a VC perspective, he's concerned about how game theory will make or break their mobility promises.  Can shuttle startup A beat out carshare startup B on price and retain users when the true cost of providing these services becomes reality.
I couldn't help but think maybe transit-like startups should be concerned about their actual role in transportation and urban planning.  What niche do they serve in the transit ecosystem, not necessarily that one can get from point A to B.   A city is inherently multi-modal, with different ways of getting places and the messy synergy between these paths.
Transportation startup's should aim to merge into the existing transit fabric, not simply create an overlay or new "platform."   Lyft boldly pushed it's "Friend's with Transit" stats out there to show that between 20-33% of all rides start or begin at a transit station in DC, Chicago, San Francisco, Boston, and New York.   If a third of your business is generated by other transit, that's not just economics, it's good urban planning.
Here's Part 1 of my take on Shaun's list:
Intercity Travel
Greyhound was the original startup in this category, providing low cost bus service between cities especially as Amtrak dismantled itself through the '80s-'90s.  Megabus jumped in before iPhones were even a thing and now we have plenty of similar "coach" services especially in Midwest and Northeast corridors.   Tech startups of course want to give you the power to provide or at least discover these services instead of running the buses themselves.
Skedaddle ) is taking the age-old Craigslist (shady) rideshare age and putting it on steroids.   Instead of just "hey please get into my car cuz I wanna split gas cost kthxbai" they're encouraging fun trips to festivals and Tiesto, although it's role as commuter A to B is the majority of routes.  It gamifies the process by only offering the ride when a minimum number of people sign up (like Kickstarter), and increasing the per head price as the number of users sign up (like Ticketmaster).  It appears to me that most offered rides were existing trips that would have happened anyway, so hopefully Skedaddle may improve the efficiency of vehicle usage, especially for leisure trips which accounts for a quarter of our driving.
Buster (https://www.buster.com/) matches groups to rides instead of individuals.  I imagine they approach coach companies and say, "Give us an idea of where you'd be willing to serve, how many people you can serve (vehicles), your rates and we'll plug you into Buster."   I asked it to take 15 people from Penn Station to Woodstock, New York, and it gave me a bunch of options from school buses to limos.  From an efficiency point of view, it better utilizes existing fleets that only have occasional use.  For example the local church's Sunday school bus sit idle most of the week.  And for planners, we'd prefer one vehicle than 15 people splitting up into many vehicles and needing to park them everywhere on a single weekend.
Rallybus (https://rallybus.net/) combines Buster (hiring local providers) and Skedaddle (crowd sourcing events).  It differs in looking at long-distance intercity travel by having a provider offer multiple "rally" pick-up spots along pre-selected routes to a particular destination.  The website is rather confusing, but appears to be focused on special events.  I selected a Fallout Boy concert in New York and I'm presented a map of routes from various cities around New York getting to the event in March.  I picked a marker in Philadelphia for $55 and it indicated it needed 25 more people to actually confirm this ride. Fortunately another ride to a Dixie Chicks concert from Dupont Circle had the minimum.  It's like Buster but instead of customized trips, it's offering pre-planned trips based on potential special-event demand (sounds like an airline!).  To me, Rallybus exemplifies trip efficiency by both placing minimums on what the trip is, and how many people are going.   It knows people are going to a concert or conference already so it wants to encourage them to group ride.
The true difference between these tech startups and a typical coach service is that the coach services are focused on capturing riders in specific transportation corridors.   Rallybus and Buster require complex itineraries, compared to BestBus or Wanderu. These itinerary costs are also a little opaque and it's hard to quickly search a route or the routes are customized.  So they succeed in very unique travel situations while Skedaddle lets one discover and compare costs more quickly.  Contrary to that, apps that are essentially rideshare boards have a hard road ahead because coach services are already fairly low cost, guaranteed rides with more amenities than someone's car.  And even luxury car drivers will be hard to compete with the highly booked Royal Sprinter.
Intercity travelers must inherently spend more time to plan and consequently more time to compare, that is something startups will need to address.